Over
here
I've set the Grongi up using My Monstrous abilities, but understanding that not everyone wants to use high numbers for their game, I'll also present the Grongi by the book. If I post something with the Monstrous Abilities, I'll also try to post them normal powered so people have choices in what to use (...if anyone uses them, that is). In general, it should be easy to swap out some levels in Strong and Tough for Monstrous Destruction and Durability to convert back and forth.
Grongi
(+1/+2)
An ancient tribe sealed for millennia,
Grongi
are a mysterious race of humans who had gained the power to transform into animal-like forms. These monstrous warriors took to hunting down another tribe of humans, known then as Linto, in a murderous game they called the Gegeru.
Attributes:
Attack +1, Agile +1, Quick +1, Transformation +1/+2 (Armor +2, Strong +1/+2, Tough +1/+2; Bizarre Appearance -2); Code of Conduct (Gegeru) -2, Hatred (Linto) -1; Health: 20/40 (30/50; 40/60)
N-Daguva-Zeba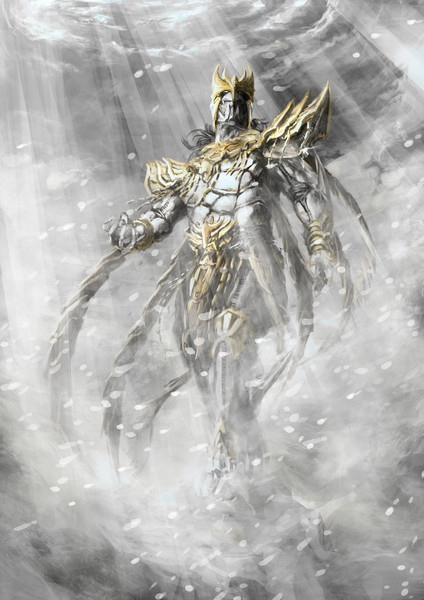 N-Daguva-Zeba is the lord of the Grongi Tribe, called the "One who brings the Ultimate Darkness", responsible for murdering the archaeologists before resurrecting the Grongi in modern times. His Imperfect Form labeled as "Unidentified Life Form #0" by the police. Before resurfacing nine months later in his fully restored Perfect Form, Daguva manages to slaughter 152 inferior Grongi in Nagano before killing Gooma and falling off the radar after six days of being sighted. By the time he resurfaces, Daguva assumes the guise of a white-suited young man with an aura. Once Gadoru is killed, Daguva begins end game by causing an endless heavy rain before defeating Kuuga in his Amazing Mighty form while leaving massive damage in his wake. As he revealed to Baruba, he is giving Kuuga time to get stronger as a favor for giving him time to move around the country in peace. Once at Nagano, Daguva resumes the carnage before starting a systematic genocide of all humans in Japan as he tells Yusuke to meet him at Mount Kurō for a final confrontation.
As the Grongi lord, Daguva has power over his kind through fear. The Grongi were an ancient tribe of humans empowered by strange metals found in a meteorite, gaining the ability to transform into beast or plant-like forms, with deadly strength. Daguva quickly proved to be the strongest of them, easily killing thousands by himself. An ancient holy warrior known as Kuuga, who used an arcane belt that gave him similar powers to the Grongi, was able to stop the Grongi's plans for genocide, but was unable to completely defeat Daguva. Instead, Kuuga sealed the tribe in a tomb for thousands of years until it was recently uncovered by archeologists. Daguva awoke first, slaughtering the archeologists before reviving the Grongi. Amused by the modern Linto, who had evolved into the current humanity, Daguva instigated the Gegeru, a ruthless game of slaughter by the Grongi, hunting down and killing humans in different ways. The winner of the Gegeru would be offered a chance to fight Daguva himself for leadership of the Grongi.
Appearing generally laid back, Daguva greets most challenges with a smirk, steadfastly confident in his abilities. Daguva does display a number of uncouth attitudes, though, as if not fully understanding (or caring) about societal norms. He'll often suggest fire or punching as an appropriate solution for the situation, and it's difficult to tell whether he's joking or not. Underneath his easygoing facade, however, is a constantly simmering rage, and to awaken it is a dangerous thing. Battle is one of the few things that excites Daguva, and naturally he despises the weak.
Health: 50 (80)
Endurance: 40
Defense: 4
Abilities (15)
Agile +2
Attack +3
Intimidating +3
Quick +2
Strong +1
Tough +1
Transformation +3
-Armor +2
-Strong +3
-Tough +3
-Bizarre Appearance -2
Weaknesses (10)
Code of Conduct (Gegeru) -2
Impulsive -2
Infamous -1
Loner -1
Over-Confident -2
Short Tempered -2
Attacks
Pyrokinesis
Area Effect (+10), Ranged (+0), Low Penetration (-5), Affinity: Fire; Roll: 4, DX: x4, End: 5
-Daguva can project waves of fire from his fingertips in either form.
Punch
Stunning (+10), Ineffective 2 (-10); Roll: 4; DX: x3 (x6), End: 0
-Daguva has an affinity for an ancient form of martial arts.
Armored Claws
Affinity: Transformed; Roll: 4; DX: x8, End: 0
-When transformed, Daguva can fight ferociously with his natural weapons.
Ultimate Kick
Accurate 2 (+10), Effective 5 (+25), Build-Up 5 (-25), Affinity: Transformed; Roll: 6, DX: x13, End: 10
-Never seen, this ultimate attack is rumored to be able to destroy the world.