Wow, it's been a while hasn't it? Especially since there's been two OVAs (that I know about) already out, but I only found the one translated: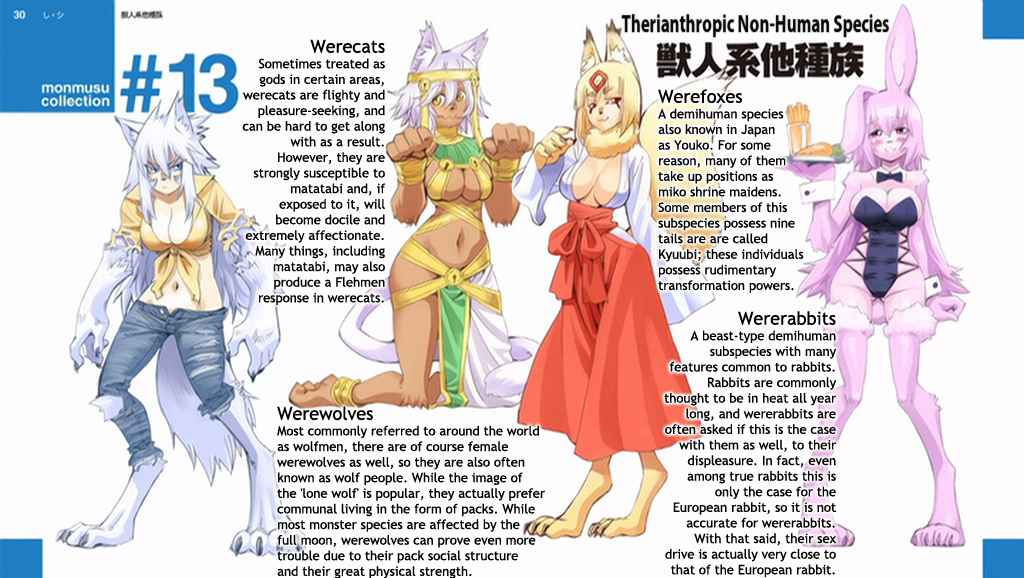 Though I did get this one, but I don't read Kanji...
Eh, I'll just wait for the second one to be translated before I get started on those subspecies.
Speaking of which, here are a few new templates, first one being the Lamprey Merfolk.
Quote:
Merfolk, Lamprey
(5 Points)
The Lamprey Merfolk is one of numerous demi-humanoid species that were publicly revealed three years ago with the adoption of the Extraspecies Exchange Program sponsored by the UN. Largely a subspecies of the Merfolk, the Lamprey Merfolk have long and slender bodies such as Lamia and secrete more mucus than the average Merfolk. This combination allows them to operate upon land unaided. Lamprey Merfolk are named such due to their hematophagy diet, with a noticeable preference for human blood.
HEALTH:
40
ENDURANCE:
40
TV:
6 (11 Scaled)
DX[END] - Attack
0.5[0] - "Lamprey Bite" (Vampire. Ineffective)
Level - Ability
+2 - Beautiful
+1 - Knowledge "Marine Biology"
+2 - Life Support
+1 - Perceptive "Water-Sense"
+1 - Smart
+1 - Strong*
+3 - Swimming*
+2 - Unique "Slippery Skin"
Level - Weakness
-2 - Bizarre Appearance
-1 - Dependency "Humid Air"
-1 - Impaired Movement "Walking"
-1 - Vulnerability "Chlorinated Water"
-1 - Unique "Anemia"
-2 - Unique "Loose Self-Control during Full Moon"
* Indicates that Character Ability/ies are of higher value than human norm, thus applicable for Scaled Advantage